Last updated on 16th January 2023
| Location | Mooring type | Mooring # | Max. length | Water | Monthly | Transfer |
| --- | --- | --- | --- | --- | --- | --- |
| Aberdeen | Fore and aft – Pa Sa Wan | ABD019 | 22 m | $500 | N/A | $600,000 |
| Aberdeen West | Fore and aft | ABD024 | 20 m | $500 | $15,000 | N/A |
| Aberdeen | Fore and aft | ABD041 | 19 m | N/A | N/A | $2.9M |
| Aberdeen | Fore and aft – row 1 | ABD042 | 19 m | N/A | N/A | $2.2M |
| Aberdeen | Fore and aft – row 1 | ABD043 | 19 m | 700 | $17,000 | N/A |
| Aberdeen | Fore and aft – row 2 | ABD044 | 17 m | 700 | $15,000 | N/A |
| Aberdeen | Fore and aft – row 2 | ABD045 | 16.8 m | 700 | $14,500 | N/A |
| Aberdeen | Fore and aft – row 2 | ABD046 | 16.7 m | 700 | $14,500 | N/A |
| Aberdeen | Fore and aft – row 2 | ABD047 | 16.7 m | 700 | $14,500 | N/A |
| Aberdeen | Fore and aft – row 4 | ABD048 | 16 m | 700 | $14,000 | N/A |
| Aberdeen | Fore and aft – row 3 | ABD049 | 14 m | 700 | $12,000 | N/A |
| Aberdeen | Fore and aft – row 3 | ABD051 | 14 m | 700 | N/A | $1.5 M |
| Aberdeen | Fore and aft – row 4 | ABD052 | 16.8 m | N/A | N/A | $1.5 M |
| Aberdeen | Land access – Po Chong Wan | ABD053 | 16.8 m | incl. | $25,000 | N/A |
| Aberdeen | Land access – Po Chong Wan | ABD054 | 15.2 m | incl. | $23,000 | N/A |
| Causeway Bay | Fore and aft | CWB005 | 24 m | Available | $32,000 | N/A |
| Causeway Bay | Fore and aft | CWB006 | 19 m | Available | $23,000 | N/A |
| Causeway Bay | Fore and aft | CWB007 | 18.3 m | N/A | $17,000 | N/A |
| Causeway Bay | Fore and aft | CWB008 | 20 m | N/A | $18,000 | N/A |
| Causeway Bay | Fore and aft | CWB009 | 20 m | N/A | $18,000 | N/A |
| Causeway Bay | Fore and aft | CWB010 | 20 m | N/A | $18,000 | N/A |
| Causeway Bay | Fore and aft | CWB011 | 18.3 m | N/A | $15,000 | N/A |
| Hei Ling Chau | Fore and aft | HLC001 | 17 m | N/A | $5,000 | $180,000 |
| Hei Ling Chau | Fore and aft | HLC002 | 18.3 m | N/A | $2,500 | $200,000 |
| Hei Ling Chau | Fore and aft | HLC003 | 18.3 m | N/A | $2,500 | $200,000 |
| Kwun Tong | Berth alongside mooring barge | KT001 | 60 ft | Incl. | $15,000 | N/A |
| Kwun Tong | Berth alongside mooring barge | KT002 | 60-120 ft | TBA | $16-24,000 | N/A |
| Kwun Tong | Berth alongside support ship | KT003 | 30-60 ft | Incl. | $140/ft | N/A |
| Kwun Tong | Berth alongside support ship | KT004 | 25-164 ft | Incl. | $5-35,000 | N/A |
| Shau Kei Wan | Fore and aft | SKW001 | 65 ft | Incl. | $15,000 | N/A |
| Tai Tam Bay | Swing mooring | TTB001 | 100 ft | N/A | $10,000 | N/A |
| Tai Tam Bay | Swing mooring | TTB002 | 25 m | N/A | $5,000 | N/A |
| Tai Tam Bay | Swing mooring | TTB003 | 16.46 m | N/A | $4,000 | N/A |
| Tso Wo Hang | Swing mooring | TWH002 | 11.9 m | N/A | $5,000 | N/A |
| Tso Wo Hang | Swing mooring | TWH003 | 19.7 m | N/A | $6,000 | N/A |
| 位置 | 繫泊類別 | 繫泊 # | 最多長度 | 水源供應 | 電力供應 | 每月租金 | 轉名 |
| --- | --- | --- | --- | --- | --- | --- | --- |
| 香港仔 | 首尾繫泊設備 – 白沙灣 | ABD019 | 22 m | $500 | 不設提供 | 不設提供 | $600,000 |
| 香港仔(西面) | 首尾繫泊設備 | ABD024 | 20 m | $500 | 不設提供 | $15,000 | 不設提供 |
| 香港仔 | 首尾繫泊設備 | ABD041 | 19 m | 不設提供 | 不設提供 | 不設提供 | $2.9M |
| 香港仔 | 首尾繫泊設備 – 第一排 | ABD042 | 19 m | 不設提供 | 不設提供 | 不設提供 | $2.2M |
| 香港仔 | 首尾繫泊設備 – 第一排 | ABD043 | 19 m | 700 | 不設提供 | $17,000 | 不設提供 |
| 香港仔 | 首尾繫泊設備 – 第二排 | ABD044 | 17 m | 700 | 不設提供 | $15,000 | 不設提供 |
| 香港仔 | 首尾繫泊設備 – 第二排 | ABD045 | 16.8 m | 700 | 不設提供 | $14,500 | 不設提供 |
| 香港仔 | 首尾繫泊設備 – 第二排 | ABD046 | 16.7 m | 700 | 不設提供 | $14,500 | 不設提供 |
| 香港仔 | 首尾繫泊設備 – 第二排 | ABD047 | 16.7 m | 700 | 不設提供 | $14,500 | 不設提供 |
| 香港仔 | 首尾繫泊設備 – 第四排 | ABD048 | 16 m | 700 | 不設提供 | $14,000 | 不設提供 |
| 香港仔 | 首尾繫泊設備 – 第三排 | ABD049 | 14 m | 700 | 不設提供 | $12,000 | 不設提供 |
| 香港仔 | 首尾繫泊設備 – 第三排 | ABD051 | 14 m | 700 | 不設提供 | 不設提供 | $1.5 M |
| 香港仔 | 首尾繫泊設備 – 第四排 | ABD052 | 16.8 m | 不設提供 | 不設提供 | 不設提供 | $1.5 M |
| 銅鑼灣 | 首尾繫泊設備 | CWB005 | 24 m | 可用 | 不設提供 | $32,000 | 不設提供 |
| 銅鑼灣 | 首尾繫泊設備 | CWB006 | 19 m | 可用 | 不設提供 | $23,000 | 不設提供 |
| 銅鑼灣 | 首尾繫泊設備 | CWB007 | 18.3 m | 不設提供 | 不設提供 | $17,000 | 不設提供 |
| 銅鑼灣 | 首尾繫泊設備 | CWB008 | 20 m | 不設提供 | 不設提供 | $18,000 | 不設提供 |
| 銅鑼灣 | 首尾繫泊設備 | CWB009 | 20 m | 不設提供 | 不設提供 | $18,000 | 不設提供 |
| 銅鑼灣 | 首尾繫泊設備 | CWB010 | 20 m | 不設提供 | 不設提供 | $18,000 | 不設提供 |
| 銅鑼灣 | 首尾繫泊設備 | CWB011 | 18.3 m | 不設提供 | 不設提供 | $15,000 | 不設提供 |
| 喜靈洲 | 首尾繫泊設備 | HLC001 | 17 m | 不設提供 | 不設提供 | $5,000 | $180,000 |
| 喜靈洲 | 首尾繫泊設備 | HLC002 | 18.3 m | 不設提供 | 不設提供 | $2,500 | $200,000 |
| 喜靈洲 | 首尾繫泊設備 | HLC003 | 18.3 m | 不設提供 | 不設提供 | $2,500 | $200,000 |
| 觀塘 | 綑綁繫泊設備 | KT001 | 60 ft | 已包括 | 不設提供 | $15,000 | 不設提供 |
| 觀塘 | 綑綁繫泊設備 | KT002 | 60-120 ft | TBA | 不設提供 | $16-24,000 | 不設提供 |
| 觀塘 | 綑綁繫泊設備 | KT003 | 30-60 ft | 已包括 | 不設提供 | $140/ft | 不設提供 |
| 觀塘 | 綑綁繫泊設備 | KT004 | 25-164 ft | 已包括 | 不設提供 | $5-35,000 | 不設提供 |
| 筲箕灣 | 首尾繫泊設備 | SKW001 | 65 ft | 已包括 | 不設提供 | $15,000 | 不設提供 |
| 大譚灣 | 單點繫泊設備 | TTB001 | 100 ft | 不設提供 | 不設提供 | $10,000 | 不設提供 |
| 大譚灣 | 單點繫泊設備 | TTB002 | 25 m | 不設提供 | 不設提供 | $5,000 | 不設提供 |
| 大譚灣 | 單點繫泊設備 | TTB003 | 16.46 m | 不設提供 | 不設提供 | $4,000 | 不設提供 |
| 早禾坑 | 單點繫泊設備 | TWH002 | 11.9 m | 不設提供 | 不設提供 | $5,000 | 不設提供 |
| 早禾坑 | 單點繫泊設備 | TWH003 | 19.7 m | 不設提供 | 不設提供 | $6,000 | 不設提供 |
Marina Berths & Debentures
| Marina | Type | Mooring # | Max. length | Max. beam | Monthly fees | Debenture |
| --- | --- | --- | --- | --- | --- | --- |
| Clearwater Bay | Private | CWB001 | 13.7 m | N/A | $11,000 | $3,700,000 |
| Clearwater Bay | Private | CWB002 | 12.2 m | N/A | $11,000 | $2,700,000 |
| Gold Coast | Corporate | GC001 | 100 ft | N/A | $18,000 | $900,000 |
Finding a Mooring in Hong Kong Waters
Securing an adequate and safe mooring in Hong Kong can be challenging. With only a small handful of privately-owned, over-subscribed marinas, it can also be very expensive. Fortunately, club moorings represent less than 5% of all available moorings, and Hong Kong's 12,000 registered leisure vessels have plenty more options to chose from. Whether you are looking for a Marine Department mooring or a traditional mooring in a busy typhoon shelter or in one Hong Kong's many other safe anchorages, local contacts are the key to success.
Thanks to his extensive network of trusted local partners, spanning all of Hong Kong's waters, from Tung Chung to Tai Po all the way down to the South Side, the Aberdeen-based Boater can find moorings of every size at every price, in the time it takes to secure a bow line.
Aberdeen South Typhoon Shelter
Aberdeen's southern harbour (part of the Aberdeen Typhoon Shelter) has some of the most desirable moorings in Hong Kong. The club moorings of the Aberdeen Marina Club (AMC), Aberdeen Boat Club (ABC) and Royal Hong Kong Yacht Club (RHKYC) are reserved to club members and subject to a waiting list. The rest of the harbour is shared between Marine Department moorings (fore and aft moorings on MarDep buoys) and traditional moorings (on quasi permanent anchors), all of which are available at a price. The presence of numerous shipyards on both the Ap Lei Chau and Wong Chuk Hang sides, as well as the multitude of workshops in the Shum Wan and Po Chong Wan Temporary Industrial Estates make Aberdeen Hong Kong's main hub of leisure vessel repair and maintenance.
The proximity of Lei Tung and Wong Chuk Hang MTR, the busy Aberdeen and Ap Lei Chau town centres and Wong Chuk Hang business centre, as well as the nearby beaches and clubs of the island's more relaxed South Side, all contribute to making Aberdeen Hong Kong's most attractive typhoon shelter for leisure vessel owners.
Kwun Tong Typhoon Shelter
Kwun Tong is the most recent of Hong Kong's many typhoon shelters. Situated on Kowloon's south side, between Kowloon Bay and Lei Yue Mun, it is also one of Hong Kong's least congested.
There are no Marine Department moorings in Kwun Tong Typhoon Shelter and space is allocated on a "first come first served" basis. Vessels can either anchor (fore and aft) for free or berth alongside a commercially operated barge (prices vary with services offered: water and electricity, cleaning, etc.). Unlike most other typhoon shelters, where fishing boats or dumb lighters (crane barges) have traditionally been the majority, Kwun Tong mostly hosts leisure vessels (superyachts, leisure junks, sailing boats and stay-aboards) and landing pontoons.
Given its proximity to the thriving Kwun Tong business district, soon to be rebranded Grand Central, and the Kai Tak Cruiser terminal, which was built on the grounds of Hong Kong's old airport and now hosts regular exhibitions, Kwun Tong Typhoon Shelter is bound to become increasingly attractive to leisure vessel owners. The proximity of the Kwun Tong MTR and North Point ferry make access reasonably easy, while the scheduled opening of a Kai Tak MTR station (Shatin to Central Line) will doubtless turn the Kwun Tong T.S. into one of the most convenient and attractive typhoon shelters in Hong Kong.
Shau Kei Wan Typhoon Shelter
Shau Kei Wan Typhoon Shelter is located on the north-eastern shore of Hong Kong island, between Sai Wan Ho and Chai Wan. Well protected, this traditional fishing harbour boasts half a dozen shipyards. Over the last few years, leisure vessels have started to make an appearance. There are no Marine Department moorings and all vessels are either moored on anchors (fore and aft) or berthed alongside licensed barges. There are a few moorings available, at a price.
The proximity of Shau Kei Wan and Sai Wan Ho MTR stations, as well as the busy Shau Kei Wan town centre, make this an attractive alternative to other, busier Hong Kong island typhoon shelters.
Securing a Berth in a Private Marina
For some yacht owners, typhoon shelters are not an option: only a private marina will do. Walk-on pontoons, 24/24 security, water and electricity supply, club facilities, easy access and car parking, without counting all the other luxuries that go with being a member of a private club: marinas have a lot to recommend them.
Thanks to its long-lasting relationship with Hong Kong's principal yacht clubs and marinas and their members, The Boater can help its clients source club berths and debentures quickly and cost-effectively.
Gold Coast Yacht & Country Club
Situated in the north west of the New Territories, a short distance from Tuen Mun and facing Lantau Island's northern shores, the Gold Coast Yacht & Country Club first opened its doors in 1990 and now boasts a state-of-the art marina designed to accommodate yachts measuring up to 60 meters. Cement pontoons, fuel station, water and electricity, holding tank pumping service, club house, swimming pool, fine dining, the Gold Coast has it all. Berths are subject to club membership and debentures (individual or corporate). Private transfers are authorised, subject to club management approval and berth availability.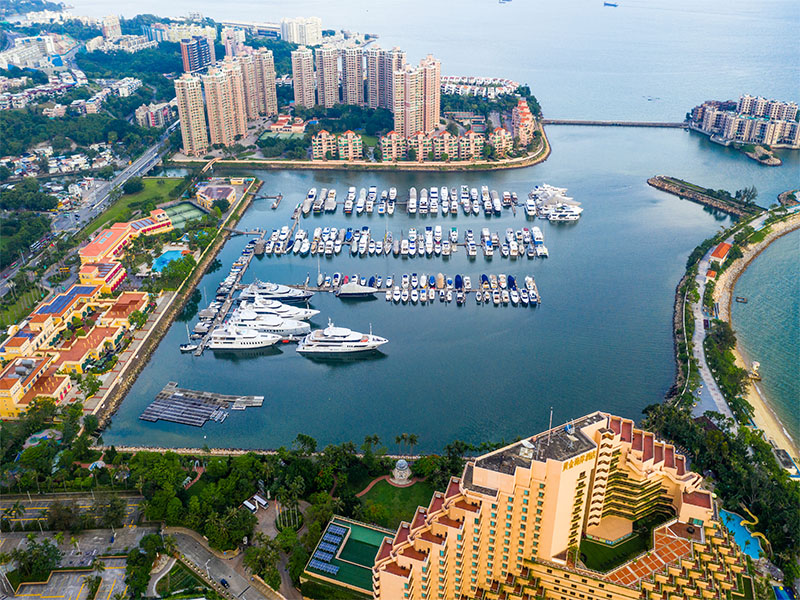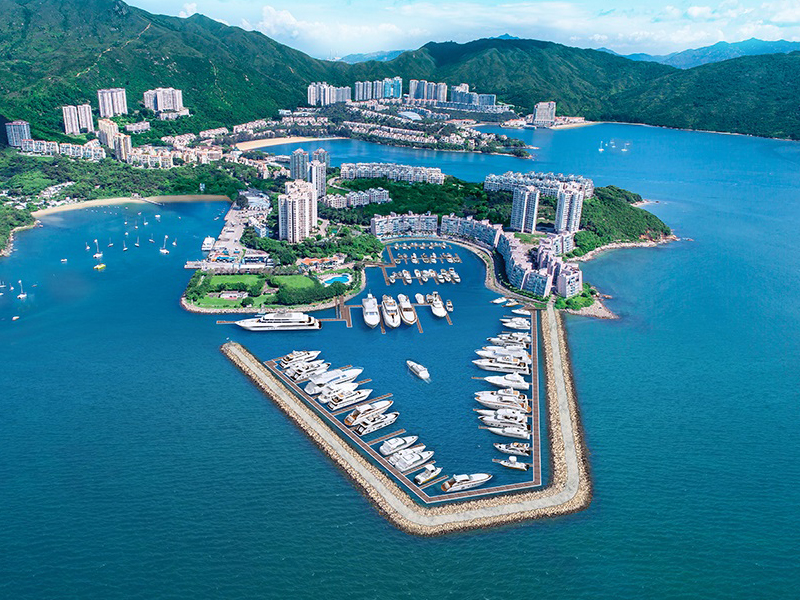 Relaunched in 2020, the brand new Lantau Yacht Club (ex-Discovery Bay Marina) is located in the south west corner of Discovery Bay, on the south coast of Lantau Island. Boasting 148 berths ranging from 10 to 60 m and the ability to accommodate one 100 m / 6.5 m draft superyacht, the marina is state of the art: up to 5m-wide cement pontoons accessible by golf cart, pump out service, 24/7 secured access, helipad, clubhouse, haul out services and plenty more.
Clearwater Bay Golf & Country Club
Located on the the New Territories' eastern shore, the Clear Water Bay Marina not only boasts an exceptionally beautiful natural environment but just as importantly, the proximity and shared facilities of Hong Kong's most prestigious and exclusive golf course. Its 300 berths and 130 dry stacks are all subject to club membership and debentures (company and individual). Private transfers are authorised, subject to club management approval.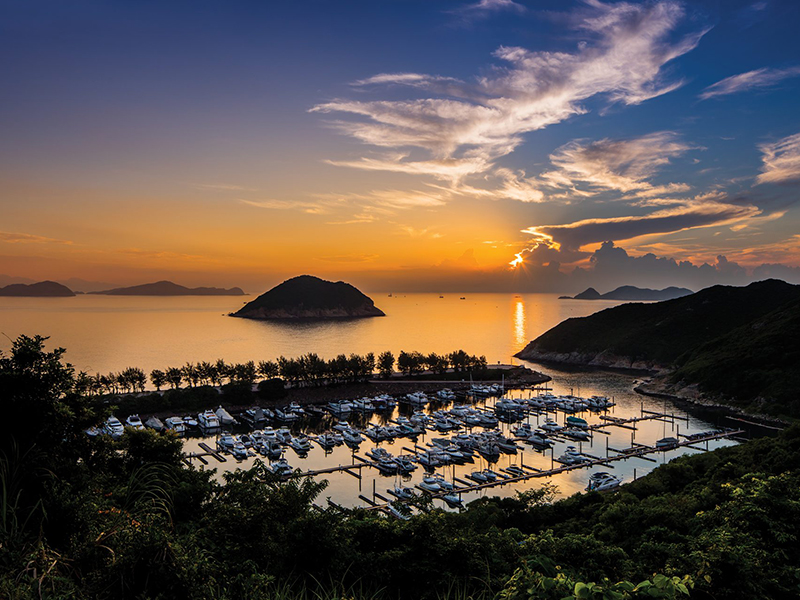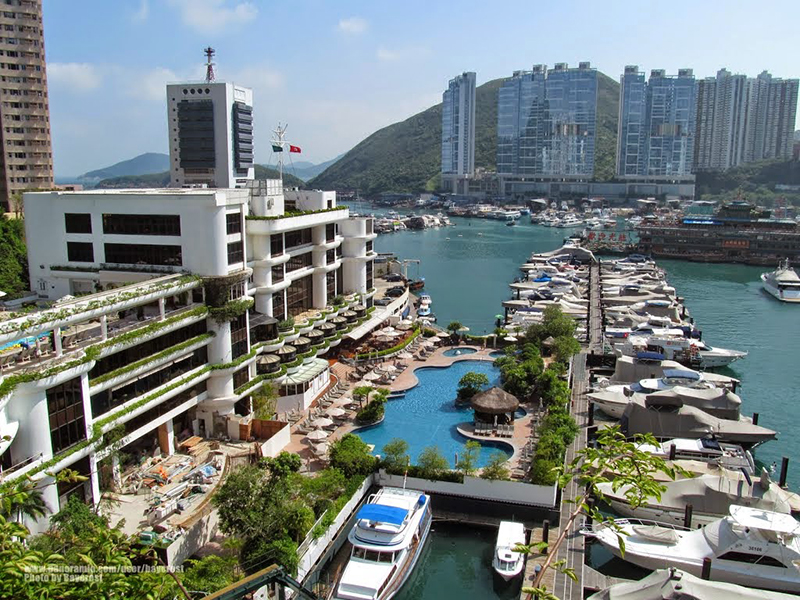 The only private marina on Hong Kong island, the AMC opened its doors in the Aberdeen Typhoon Shelter in 1984. Managed by the Shangri-La group, the club is second to none when it comes to entertainment: seven restaurants, kids' play zones, indoor and outdoor swimming pools, a wine shop and a delicatessen, a bowling alley and an ice-skating rink are some of the facilities on offer. On the marina side, it offers a unique in-door dry stacking facility, that will accommodate speedboats weighing up to 3.8 tons. It also has 170 wet berths, from 30 to 100 feet. Berths are subject to club membership (on invitation only) and debentures (individual or corporate). Private transfers are authorised, subject to club management approval.